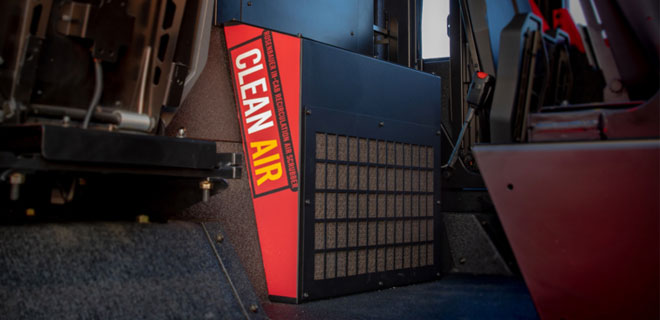 Clean Air™ Recirculation Air Scrubber
The CleanAir™ continuous air filtration system is designed to remove toxins from the air in the fire truck cab and reduce firefighters' exposure to carcinogenic pollutants.
According to the CDC and NIOSH, statistics show that firefighters are 9% more likely to develop a cancer diagnosis and 14% more likely to die from cancer compared to the general U.S. population. That's why Rosenbauer created the "CleanAir™" continuous filtration system that traps cancer-causing particles with its two filters:
FIRST FILTER: Some pollutants from a fire, such as soot, are drawn into the first filter. This filter has a rating of 15 on the Air Filter Efficiency Rating Scale (MERV). A filter with an adequate MERV rating can replace an expensive and sometimes inappropriate HEPA filter because of the pressure drop caused by the density of the HEPA filter.
SECOND FILTER: The carbon filter works by absorbing many volatile organic compounds (VOCs). The carbon filter is the only filter capable of absorbing VOCs.
System developed in collaboration with the University of Minnesota Particulate Matter Calibration Laboratory Removes 85% of VOCs
Tested to ASHRAE 145.2-2016
The CleanAir™ filtration system can be installed in almost any existing vehicle type with the required space and power.